updates (01.31.08):
Added a link to
ele_309
's Matthew/Lauren videos and a few pre-Sundance pics from
playonrepeat
, including a great mini-collage of their Celebrity Poker Showdown appearance.
Guys, I'm set on a mission. Maybe it's my life goal, I don't know. Mission: I plan to get the whole world to see the greatness that is Matthew Perry and Lauren Graham together and convince them that these two belong together. Sure, you might've have seen most of these floating around the internets by now (and for good reason), but I thought it would be awesome if all the greatness could be found in one giant post for all. Good people of the internets, I present to you:

So. This thing with Matthew and Lauren have been in this on/off relationship since forever, and despite all that, they've remained really, really good friends, which is awesome, because let's face it: who
does
? Every once in awhile, rumors of being
on
again pop up,
(
Collapse
)
These days, Matthew and Lauren are at a little place called Sundance where their promoting their new movie
Birds of America
where they play husband and wife Morrie and Betty.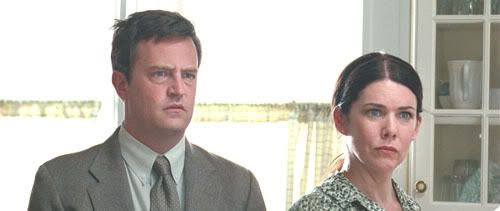 Repeat:
they play husband and wife
. Together. Each other's husband and wife.
(
Collapse
)
Aaaaaaaand their cuteness is also on video.
(
Collapse
)
(
Collapse
)
(
Collapse
)
Guyyyyyys, this does not conclude the end of the Perry/Graham Watch. I'll be updating this post with more stuff as it comes along and maybe a surprise for you as well (Right now? I can promise you it won't be a crappy music fan video of the two to ~*~Chasing Cars by Snow Patrol~*~.) Feel free to spread this post all around (I'll keep this unlocked) and go ahead and use the pictures for whatever reason you can think of (I am not opposed to icons, wallpapers, fanart, creepy shrines, etc.), but
no hotlinking, plz
. Also, let me know if you encountered any problems while reading this post, cause there's bound to be an error there after working six hours straight on this. Happy Perry/Grahaming!
Important!:
All the recently uploaded videos on this post all seem to have a scrollbar showing up, and you'll need to scroll down to get to the actual video. I know, I'm sorry. I'm working on fixing it ASAP, but for now, this will have to do.
Much thanks to
l-graham.org
,
alexisandlauren.com
,
ohnotheydidnt
,
perrygraham
(yes, there is a community dedicated to them; no, I didn't create it although I wish I did),
gilmoregirlsnews.com
and
IMDB
.